Why my dental crown cause bad breath?
Sometimes, there may be an odor in the mouth due to the tooth crown or tooth bridge. However, there is no bad breath in duly made crowns and bridges. Your dentist in Turkey should make the crown from biocompatible material. The dentist must follow the rules during the process of zirconia crowns. Otherwise, gum edges and tooth bridge which we can not clean well may cause bad breath. Only a professional dentist in Kusadasi can do the best dental work. Our dental clinic offers you the best zirconia crowns in Turkey and the best prices to go with it.
In dental bridges, the underbody area is given an easy-to-clean shape. The patient should also clean the underbody with a toothbrush and interface brushes after meals. Just as we have to wipe the glass of the glasses when we use glasses, we should clean the under bridge when we use dental bridge.
Another Reason for Bad Breath
We should always keep in mind that we use prostheses. If the bridge creates pressure on the gingiva, infection will occur in that area as the gingiva will bleed over time and the vascular structure will deteriorate. Another reason for bad breath caused by zirconia crowns or dental bridge is that the coating is not compatible with the gum edge. It is possible to encounter this problem in case of cutting the area against the rules where the gums and teeth encounter during the process of crowns. Another reason is the uncertainty of the measure taken. After tooth cutting, dentists should take a precise measurement and provide a temporary tooth. Thus, your professional dentist in Kusadasi determine the borders of the dental coating clearly and accurately. Thus, the material of a good and quality dental coating should be compatible with the body and not to put pressure on the gums.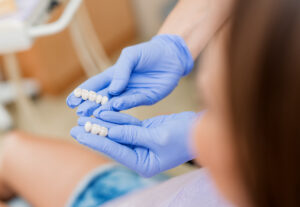 The Best Zirconium Crowns in Turkey
Our dental clinic in Kusadasi guarantees you the best zirconium crowns in Turkey.
Zirconium crown allows the production of very successful teeth thanks to the developments in computer technology. The material being biocompatible and processing the gums and adjacent teeth with zero error increases the success in zirconium crowns in Turkey. Therefore, patients who do not want to have problems such as bad breath, prefer zirconium crowns. When not done according to the rules, either implant treatment or treatments using zirconium material can cause various problems. Therefore, patients can be sure that good material and good application will provide good results. Our clinic of dental centre turkey use the newest equipments, tools and have confidence in dental work as well as our patients. If you have bad breath caused by dental crowns, we offer you a solution which is a dental travel in Kusadasi.
---