Full Teeth Implants Turkey
Dental implants are made of titanium and other components that combine and mimic the root of a tooth with the jawbone. This artificial root helps the dentist to protect your new teeth so that they remain healthy and mix with your surrounding teeth. Missing teeth can cause your jawbone to be put under extra pressure. Our high quality dental implants in our clinic in Turkey will provide protection in the way your normal teeth do, reducing the chances of injury to your jawbone. In other words, it is a way of changing your smile and self-confidence.
Magic Smile Turkey
Because dental implants require one or more surgical operations, a comprehensive assessment is required to prepare for the procedure, including:
Comprehensive dental examination: Dental x-rays and 3D images are taken, models made of your teeth and jaw are designed.
Reviewing your medical history: You should give your dentist in Turkey information about the medicines and / or supplements you have used with or without a prescription.
If you have chronic heart disease or have orthopedic implants, your physician may recommend antibiotics before surgery to prevent infection.
Treatment plan: This plan, adapted to your specific situation, takes into account factors such as how many teeth you need, the condition of your jawbone and the remaining teeth.
Dental implants in Turkey is an outpatient surgery that is usually done in stages. The process of placing a dental implant involves several steps, including:
Removing the damaged tooth,
When necessary, jaw bone preparation (grafting),
Dental implant placement,
Growth and recovery of the bone,
Bridge layout,
Placement of the artificial tooth.
Once the dental implant work is complete, there is no limit to what you can eat. Whether you want crunchy snacks, chewy foods, hot or cold drinks, you can eat and drink without worry, just be careful not to overdo it with sugary treats.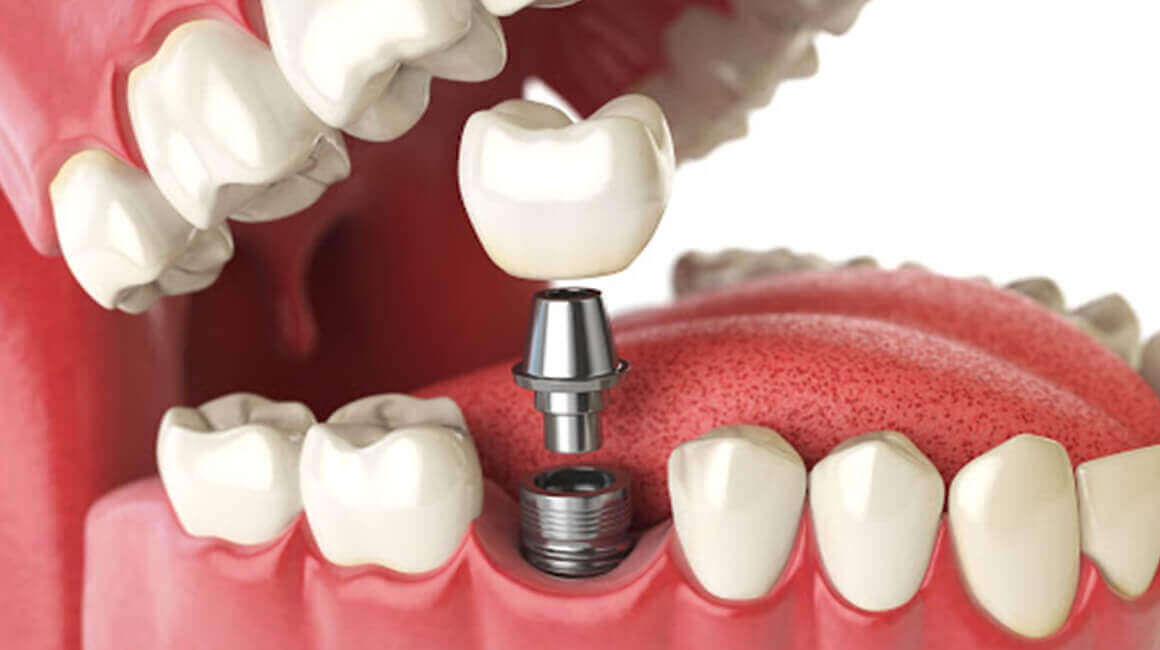 Why are dental implants necessary?
If you have removed teeth and cannot get dentures, bridges or crowns, dental implants may become necessary. When you have missing teeth, it is important to replace it because it will create much bigger problems in time. Also, dental implants affect the overall function of your mouth as well as the visual aspect. This explains when to get dental implants.
How much time does implant procedure require?
It usually takes two visits to Turkey. In your first visit, there will be placing of dental implants, and then you should wait minimum of 3 months before the implants are fitted. In your second visit to Turkey, you will get your permanent dental implants and your treatment will be completed. However, you should be aware that the other option is Same Day Implant in Turkey. It usually takes 8 to 10 days for the first phase and 7 days for the second phase and
Is dental implant procedure painful?
People usually have a misunderstanding about the process of implants. First of all, you will be under local anesthesia to numb your mouth and not feel anything. However, after the procedure you may feel some discomfort. Secondly, our dentists in Turkey work in a very clean environment so this gives little chance of infection. People also say that dental implant procedure is less painful than removing teeth. So do not hesitate to take this treatment of dental implants in Turkey!
Are there any alternatives to dental implants?
Depending on the condition of your teeth and jawbone, our dentists will give information about bridges, crowns, dentures and root canal treatment.
What are the advantages of dental implants?
Enhanced Look: Because they are fused with the bone, dental implants stay permanent. Also, they look like your own teeth so they will feel like your own.
Improved speech: Your teeth may cause you to mumble your words. Dental implants eliminate this slip in your mouth.
Easier eating: You may feel sensitivity or pain while chewing food. Implants make it easier for you to eat your favorite foods.
Improved self-esteem: Implants definitely will give your self-confidence and smile back!
Durability: Implants will last for many years. If you take care of your teeth well, they will last a lifetime.
In which situations is implant application risky?
It should be known that implant application is risky in certain situations. These situations;
Diabetes and chronic cardiovascular conditions

Young people whose bone development is incomplete

Pregnancy

People with high smoking

Alcohol and drug addicts

Those who receive high-dose radiotherapy in the head and neck region

High blood pressure and connective tissue problems

Implant treatment will be a risky intervention in cases such as hemophilia and immune system problems.
Is implant required in each dental cavity?
Dental implants in Turkey can be applied to all oral cavities with sufficient bone thickness and length. However, not every toothless area may be sufficient and suitable for implant placement. In order for the screwed teeth to be placed in a healthy way, it is necessary to have a thick and long bone area that will contain the volume covered by the implant and that will surround the screwed tooth.
Especially in case of single tooth deficiencies, neighboring teeth can move towards the empty space over the years and there may not be a gap at the level to allow implantation in this area. In such cases, if the teeth are not returned to their old places with orthodontic treatment, it is not possible to make dental implants, and prosthesis construction by abrading neighboring teeth is the only alternative. Patients who want to have dental implant treatment in the area with a single tooth cavity start implant treatment without waiting for a long time will eliminate this risk.
In cases where there are two or three teeth missing side by side, but neighboring teeth cover a part of this tooth cavity, one or two dental implants can be placed in the area and a prosthesis can be made to cover the other parts. However, in this case, both implant planning and prosthesis planning are extremely important in terms of aesthetics. Otherwise, it will be extremely difficult to meet aesthetic expectations.
The implant is not required for each missing tooth, it is possible to make a screwed interdental bridge in the jaw areas with more than one tooth loss. For example, if the lower jaw bone condition of a person who has lost all teeth in his lower jaw is suitable for placing screw teeth of the desired length and diameter, even with the application of 5 or 6 implants, 14 fixed bridge prosthesis has become possible. In other words, 5 implants can carry 14 teeth in terms of biomechanics. So, you may need full teeth implants.
How long do dental implants last?
The life of the dental implant also varies according to whether the patient is exposed to other diseases, the care given to teeth and gums, and the frequency of control applied by the dentist for dental health. If you completely fulfill all conditions and have not been exposed to any disease, you can achieve a successful result that you can use your implant treatment for a lifetime. However, depending on other factors, the average life of implant treatment is around twenty to thirty years. In order for an implant transplantation to be successful and the longest lasting, all other factors aside, especially oral and dental hygiene should be paid enough, maybe even more attention. The more attention is paid to oral hygiene, the more long-lasting dental implants you will get.
Are there any disadvantages of implants?
We are turning disadvantages into advantages in the way that we offer high quality service with cheapest prices. We guarantee you will receive the best treatment and attention from our professional dentists. In terms of dental implant treatment cost, you will definitely save money when you get implants. The only disadvantage we can say is that it takes a couple of months for full recovery but the result is worth waiting.
Which dental implant brand do we use?
We use Straumann which is one of best dental implant brands in the world as well as Osstem. If you want to have long term success, think about getting implants in our clinic in Turkey.
Straumann dental implants are the finest dental implants of quality; to achieve the highest performance, the Straumann device combines the finest materials and the newest technologies. Straumann dental implants, as well as greater efficiency and improved appearance, offer optimal levels of functionality.
They are preferred because;
Optimally combined with oral tissue
Rapid and easy process of treatment
Fast recovery
Variability; Straumann dental implants can support single crowns, dental bridges or dentures, making them an effective treatment for patients with any number of teeth missing.
Dental implant treatment cost Turkey
Dental implants in Turkey are not the cheapest brands as you may think because in our clinic, as written above, we use the best brands in the world to make sure your health does not get worse in all conditions. We care about patients as well as the denture implants cost. If you wonder how much is dental implants cost, we offer you the best affordable prices. Check our prices page under treatments for more information.
If you consider getting dental implants in Turkey, please make sure to get more information from us.
Treatment or Holiday? Why not Both!
Free Services
Consultation With The Dentist ToPrepare Your Dental Treatment
Panaromic x-ray
Volumetric Tomography
Pick up Services (Airport-Clinic-Hotel)
Hotel Accommodation (Valid for full package)
Temporary Crowns For The Duration Of Your Treatment
Needle-Free Injection Anesthesia
Free Boat-trip every Tuesday (in case of good weather conditions)
Free Turkish Hamam every Friday